Information for outpatient visitors

Reception for visiting patients is on the 2nd floor, at the main reception desk.
For outpatient visitors
The following areas of care and treatment are available for visiting patients at Akimoto Hospital:
Internal Medicine
General Surgery
Gastrointestinal Medicine
Orthopedic Surgery
Neurosurgery
Cardiovascular Medicine
Smoking Cessation Therapy
Outpatient Palliative Care
※Smoking cessation therapy requires an appointment made in advance. Please call us to make an appointment before you visit.
※For those seeking outpatient palliative care, an appointment and interview are required in advance. For more information, please speak to our hospital's medical social workers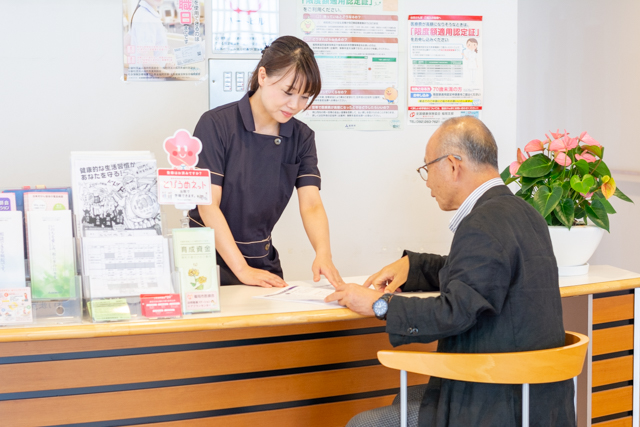 Reception times for outpatient visitors
Monday – Friday

8:30-12:30 and 14:00-17:00

Saturdays

8:30-12:00 only
The hospital is closed for outpatient visits on Sundays and public holidays.
Appointments are made by phone
For making outpatient visit appointments, as well as initial consultations and inquiries, please call us.
Phone number :

092-771-6361

Hours available :

8:30〜17:00
While appointments are made in the interest of providing you with medical care in a timely and efficient manner, we appreciate your understanding that, in some cases, you may be asked to wait beyond the scheduled time of your appointment.
What to bring with you
Insurance Card

You must show your insurance card upon your first visit, and upon the first visit of each month thereafter.

Letter of Referral (When referred by another hospital)

When you are referred to Akimoto Hospital by another hospital, bring a letter of referral from the hospital, as well as any related paperwork.